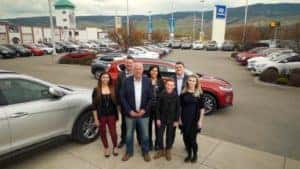 Welcome to Buy Direct Truck Centre, the only place in Kelowna to offer vehicles at wholesale pricing. No matter what your budget is, we have a wonderful option for you. Though we may focus on trucks, we have far more than that too. You can come to us for the pre-owned truck, SUV, or car that you need today! We will not let you down! Browse through our entire inventory online or come to see us in person and see all that we have to offer.
We are a family-owned dealership that was created by John Kot who also owns several other dealerships throughout the Okanagan Valley. With our Kelowna location, we are the perfect place to go used vehicle shopping for people in all the surrounding areas including Penticton, Vernon, Kamloops, and more! You don't have to leave the Okanagan Valley to find a great vehicle or a great deal. Instead, come to us! We can get you into a great car today!
Not only do we provide great vehicles at wonderful prices, but we can also assist you with both traditional and second-chance financing. You deserve a quality vehicle, and we are prepared to help you get into one regardless of your budget or your credit history. We are more than happy to help you through the entire financing process, and we can even help you with a trade-in. With us on your side, we can get you into a great car that you can count on today!
We stock a wide range of vehicles in our inventory. You will find everything from late-model low-mileage options including trucks, cars, and SUVs, all the way to budget-priced vehicles. No matter what you buy from Buy Direct Truck Centre, we can assure you that you are getting a quality vehicle that you can count on. We are confident in this because we actually take the time to inspect every vehicle before it gets a price tag. We make this commitment of quality to you with every vehicle that we sell.
Message From The Owner